Foreword:

Back on 18 December 1999 Jay Levy posted the following request for information:

---

I have just acquired an Omega Speedmaster, but no one including the seller could tell me much about it. Here is the description:
Omega Speedmaster Automatic
Day & Date windows at 3:00
24 hour dial at 12:00
Sweep second dial at 9:00
Chrono second & minute hands rotate from center of dial, as do regular hour & minute hands.
Dial at 6:00 is for chrono hours (I guess)
One other thing - the entire case can be pushed down out of the bracelet.
The back has the Seamonster logo and the word "Seamaster".
I can send a scan if you e-mail me. I would like to know anything about this watch - model number, age, value,

Thanks in advance for your help.........

---

For me it was immediately evident that the watch he described was a c.1045 Speedmaster. I requested a scan via email, which Jay was kind enough to send. Since this branch of the Speedmaster family tree isn't widely known or particularly well documented I felt that a complete write up was in order. I compiled the following information and this page is an expanded and updated version of that write-up...

As an aside, the response to this article has been both gratifying and overwhelming! I have had people contact me from many different nations from Japan to Spain and other locations elsewhere in the world. I have also tried to find suitable examples of specific models for people who have either became interested in a specific model because of this article or had been searching for information on these watches and found the article either through trying or by luck.

---

Dimensions of c.1045 Speedmaster Automatics

Reference:

Description:

Height:

Width

Thickness:

Weight:

Notes:

w/Crown:

w/o Crown:

176.0012

Mark IV case version

45 mm

44 mm

42 mm

15 mm

134.05 g

176.0014

TV Dial/Link Bracelet

42.8 mm

42.2 mm

39.7 mm

15.8 mm

139.68 g

2nd Case Ref#376.0804 (Bclt 1204/212)

176.0015

Tonneau / Bar Bracelet

43.2 mm

42.0 mm

39.0 mm

15.1 mm

155.15 g

176.0016

Tonneau / Link Bracelet

44.1 mm

42.0 mm

39.0 mm

15.1 mm

126.67 g

176.0017

TV Dial/Bar Bracelet

43 mm

42 mm

40 mm

15.7 mm

152.6 g

2nd Case Ref# 376.0805 (Bclt 1204/212)

376.0806

Mark V

44.8 mm

45.5 mm

44.1 mm

14.2 mm

126.40 g

376.0822

Moonwatch Case

48.25 mmÝ

43.05 mm

42.1 mm

15.35 mm

118.9 g

Ý This measurement is end of lug to end of lug. Other c.1045 cased watches have hidden or integrated lugs...

Special thanks to Gene Henry for providing the dimensions of his ST 376.0822... I've since independently measured the 376.0822 with greater accuracy and the revised numbers are above.

I don't currently own a 176.0017 (yet), I'm working on that. In the mean time James Marcos was kind enough to let me measure his example, Thank you Jim!

---

Jay was kind enough to email me a photo his watch and it appears to be a 176.0012 shown immediately below (Fig. 1):

Omega uses it's own in-house numbering system to refer to caliber numbers of it's time pieces. This watch uses the Omega cal. 1045 movement which is the same as the Lemania 5100 movement. The 5100 has been and is currently in production and used by a number of manufactures in their Chronographs. Omega fine tuned the Lemania movement it procured from Lemania and stamps it's name and logo on the rotor (see below). The c.1045 uses a 17 Jewel automatic movement, and features four hands operating from the central pinion which requires a significant distance between the dial and the inside surface of the crystal, making for a thick watch. This movement is not for the petite, or those looking for a watch that will fit easily under a dress shirt cuff. For Dimensions of the watches I own please see the table I have at the top of this article...

The Lemania movement is also known for using a significant number of plastic parts which are significantly lighter and seem to perform as well or maybe even better than metal parts would despite what some watch purists believe or would have you believe.


Omega made a number of models with this movement starting in 1974 and ending in 1987 (as of this date anyway), with the vast majority being made during the 1974-1975 timeframe. As this watch was (Fig. 1). The Time Capsule book lists this particular model as being manufactured in both 1974 and 1975, however one of the "1975" references also call it a Mark IV which is most definitely a different watch using a different movement and most likely is in error.

Of the four c.1045's that I have all of them have had Spanish language stampings on the bracelets and have had Spanish (3) or Portuguese (1) language day rings on/in them. The rounded square dial c.1045 (Fig. 2) is the one in my collection that has the Portuguese day ring. From what I have been able to puzzle out Omega sold a lot of these models in Latin American market as this is where the bracelets seem to be coming from... I've talked to dealers who have said that Omega sold a lot of these models to European expatriate's living in Latin America. Among the big selling points are that the 24-Hour dial would allow them to figure out what time it was at "home" by adding the time difference with their home country, and that Omega is a widely known and respected watchmaker around the world.


Note: The English Day Ring is obtainable and can be swapped into the watch when it is in for routine maintenance. I have done this on three of my c.1045's and will be doing it shortly to the fourth. The Omega Part number is: 1045-1516 A (9/97).

With the emergence of the Internet and the ease of seeing a demand and interest in watches in other parts of the world, there seems to be a migration of these models from Latin America to the north where they are sold by dealers, stores, and by sellers on the Internet. I have not been able to determine if these models were ever offered by Omega in the US or in Europe, indeed it is possible that they, like the later West German market only models, were not originally offered in the U.S. or Europe.

The 176.0012 model as pictured above in Fig. 1 is in my opinion the most common model. They regularly show up on that famous Internet auction site and on other places on line. Bear in mind that they are not common watches when compared with Mark II or Moonwatch Speedmasters, just seemingly more common than the other models sharing the c.1045 movement. This model features a modular construction that allows the movement and crystal to be removed from the case as one unit. This feature is also seen on the Omega Speedmaster Mark IV and the Omega Speedmaster 125.

The next most common (Ref. 176.0014) pictured in Fig. 2 is the rounded corner square (or TV Shape) dialed c.1045. These are fairly common as well. Next in most common is the Tonneau shaped 176.0015/176.0016 (Fig. 3) which is somewhat less common than the other two models, but does show up from time to time. An interesting point is that I've seen a number of this model offered up on that most popular auction site from sellers in Australia. Why this particular model would be prevalent in that area of the world is a mystery to me. Another point that bears mentioning is that there are two distinct variations of this style... One is fitted with an integrated Bar Bracelet, the other has a more conventional case that will accept spring bar's and a 22mm bracelet or strap. The cases are different but look very similar. I have added a special section below to further discuss the differences between these two variants.

The final two models are very uncommon. Neither the "West German market" Mark V Speedmaster (Ref. 376.0806) pictured in Fig. 4, or the Moonwatch cased Ref. 376.0822 pictured in Fig. 5, are commonly seen. I've only seen a couple of Mark V's appear on the market (usually on eBay.de), and I've only seen two of the Moonwatch cased c.1045's. I have written a companion article on the Speedmaster Mark Series which also talks about the Mark V. The Moonwatch cased c.1045 I saw was on that auction site from a seller in Germany (which I regrettably passed on as I had just been bit by the collecting bug) the other is owned by Gerry L. who's 376.0822's picture I adapted from one of Gerry's posts (thanks Gerry!).
---

Rough Price Ranges:

For me to authoritatively state values of any of these watches would be quite arrogant of me, for I am by no means an expert. The best I can do is to state general ranges that I have seen these models go for. I've seen the Mark II cased Ref. 176.0012 (Fig. 1) version typically go in the $500-800 range, the rounded-corner square dial Ref. 176.0014(Fig. 2) version typically go in the $700-850 range, the Tonneau cased 176.0016 (Fig. 3) version typically going in the $750-950 range, the other models I haven't seen enough offered for sale to even guess at a range. However, you should be aware that these ranges vary greatly depending on the condition of the watch, quality of the bracelet, and the demand for the particular watch. According to the dealer that I bought my 176.0014 from he had offered it two or three times on TZ's Sales Corner before posting it on that auction site where I snapped it up as it was the cleanest one I have seen. I had missed it's posting on the Sales Corner. It is also important to note that people have preference for or against certain models or styles of watches. Some people simply do not like the looks of style X while other's will think it's the bee's knees. Personally, I feel that the Tonneau cased c.1045 (Fig. 3) is about the most handsome chronograph that Omega has ever made. Your mileage will vary.

One of the nice things about posting an article such as this is that people will ask you questions. Some of which will exceed your existing knowledge of the subject and requires you to do further research in order to answer. Sumihisa Furufuji is a gentleman from Japan who enlisted my assistance in locating a Tonneau cased c.1045 for purchase. I was fortunate that I was able to locate one for Sumi. But in while in the process, Sumihisa asked me the following:

" I have a question about Ref.176.0016 case. I think there are two types.

Please check enclosed picture. "

"Left side type has narrow distance from corner."

"Right side type has wide distance from corner."

"Bar"-Style bracelet Tonneau c.1045

ST176.0015

"Link"-Bracelet Tonneau c.1045

ST176.0016

Photo's and visual aids courtesy of Sumihisa Furufuji

Yes, there are two different type of cases... I have an example of each...

One is slightly shorter in length and is the one that has the "Bar"-Style bracelet. Which is the one's pictured on the left in Sumi's (fantastic) graphic. The other one (the longer length one) has a longer case length to allow it to accept a 22mm strap or a bracelet. It needs the extra length to allow clearance for the bracelet/strap and spring bar. Because the Bar-Style Bracelet is of an integrated design it can and does use a shorter case.Here are the measurements that I have taken from my example of each of these watches:

Dimensions of Tonneau-Cased c.1045's

Reference

Description

Height

Width

Thickness

Weight

w/Crown

w/o Crown

176.0015

Tonneau / Bar Bracelet

43.2 mm

42.0 mm

39.0 mm

15.1 mm

155.15 g

176.0016

Tonneau / Link Bracelet

44.1 mm

42.0 mm

39.0 mm

15.1 mm

126.67 g

As you can see the dimensions are exceedingly similar. Most of the differences are in the weight and the height. Most of the weight difference can be attributed to the HEAVY Bar-Bracelet, the height difference is due the the necessary provisions to accommodate the spring-bars that are necessary for attaching a strap or bracelet to the watch's case... I also should note that the ST176.0014 TV Dial (or rounded corner square-dial) c.1045 also comes in both a Link and bar bracelet variants. As I've never handled the bar bracelet version I do not know the weight or case reference number. If you own one of these and can provide me information please contact me...
One of the things that makes watch collecting so interesting is just about the time you've seen everything and have a decent handle on a particular topic something comes along and gives your existing knowledge base a nudge.
Then comes along something that I hadn't actually seen before... (Thanks to Spudmax for bringing this to my attention):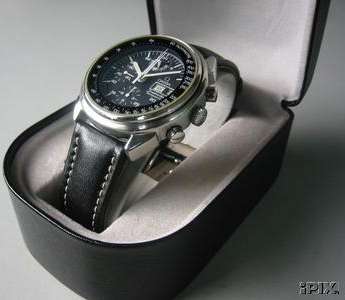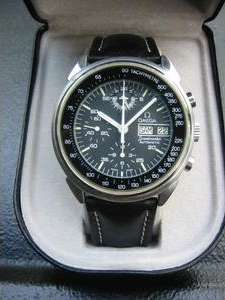 A little mystery here, eh? It looks to be a 176.0012 but with lugs, and the watch also has a standard 176.0012 case...
Here is the description translated from the original language into English via AltaVista Bablefish:
Omega speed master automatic chronograph, 70's. Caliber omega 1045, red-gilds. Light customs tracks, two thin scratches on the glass. All functions perfectly. Goes very exactly. The chronograph is supplied with two housing versions, which one changes through the clock container exchange can. See pictures. The hidden lug version with steel strip is the original version. The second housing version was manufactured by me in manual work, and is particularly suitable to carry this otherwise very heavy chronograph with leather bracelet even to more elegant events. The clock container is held in the respective housing version by an O-ring, which presses with into a groove locked. If you have interest in a unique and unusual watch, then this is the opportunity. Original omega steel strip and high-quality new leather bracelet (see photos) is contained in the scope of supply. Good Luck success and have fun bidding!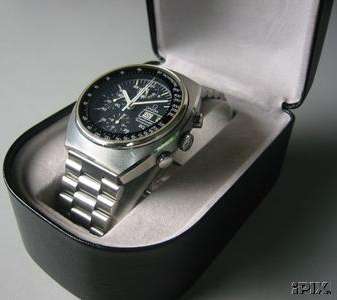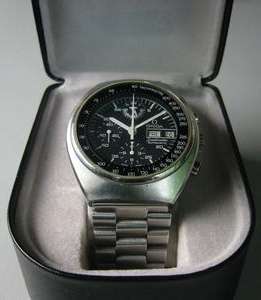 Ah, the description clears everything up... So what we have here is a genuine 176.0012 c.1045 Speedmaster Automatic with an additional custom made (non-Omega) lugged case in addition to the case that Omega shipped with this particular watch .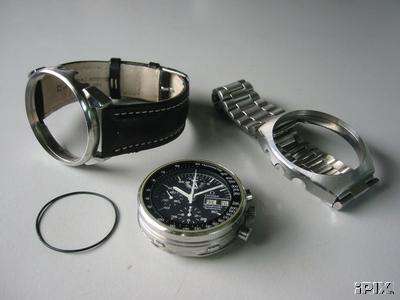 All in all a very interesting piece even though the argument could be made that it's originality is, well, quite unusual... I've since had several email conversations with the creator of this custom c.1045, a friendly fellow named Gilliam. If you have a spare case you'd like modified, or even a 176.0012 that you'd like converted, please feel free to contact him... Gilliam recently sent me some more pictures to share in this article:

In order to keep download times low, I've included these thumbnail pictures, click on them to see the originals.

---

Summary:

The Speedmaster Automatic Chronographs are among the most sophisticated chronographs Omega has ever produced. About the only more complex chrono's Omega makes are moonphase and triple-date variants of the Speedmaster.
I wish I had more information that wasn't conjecture and wished that I was able to piece together more, but what can you do? If anyone has more information to add please post it here or email me at the link above
-- Chuck
---
Statement of rights retained and permissions granted...
Permission is granted for Damon,RJ, Derek, Ross and/or Frank N. to include within the FAQ's they are writing as long as I'm given credit for this work (and Gerry L. is given credit for the picture of his Ref. 376.0822 Speedmaster). Permission for personal, educational or non-commercial use is granted. The author retains all other rights not specifically mentioned here... For all other use please contact the author.
Disclaimer: Opinions are my own and knowing me should be taken with a grain or two of salt...