Every watch brand has a history.

Only a precious few make history.

Like OMEGA.

OMEGA, 150 years at the

forefront of watchmaking!

---

In the Greek alphabet, the letter

OMEGA is synonymous with

accomplishment and perfection,

and has been for 2500 years.

In watchmaking, the OMEGA

brand is at the forefront of

know-how, design and human

achievement. It has perpetuated

the qualities of its Greek name,

for 150 years.

Written by Marc Levesque
Time2watch
THE ANTICIPATION:

Even before James Bond starting wearing an Omega Seamaster, I wanted one of them, the fact that you could see one larger then life on screen didn't help my temptation. To me the Seamaster Pro is a perfect sports watch, rugged yet stylish, large, but not a cuff-eater and relatively inexpensive compared to it's competition.



The Seamaster Pro, has been Bond's choice in his last 3 movies: Golden Eye, Tomorrow Never Dies and The World Is Not Enough, in all three movies the watch has saved Bond's life numerous times and always comes out unscathed. What attracted me to this watch is it's finish (which I will describe in detail later), I truly believe that there isn't another sports watch on the market at it's price point with this level of workmanship and attention to detail.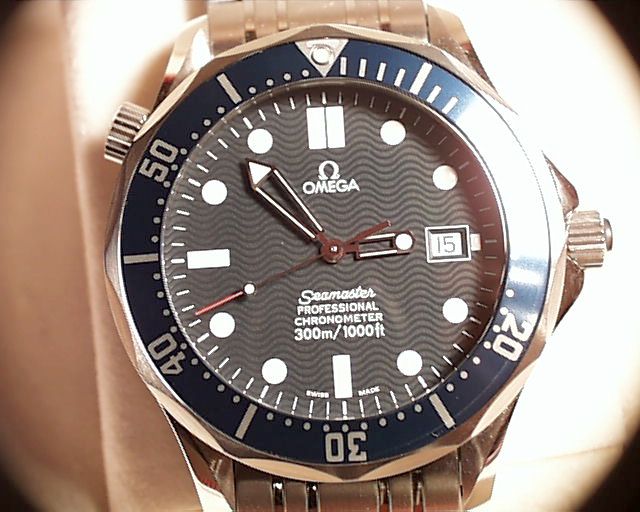 The Case diameter is of 41mm, 45mm to the end of the crown, the thickness is only 10mm (incredible for a watch this size), 47mm from lug to lug and weighs approx. 150 grams. The lugs are slightly polished SS and so are the crown guards, the rest of the case is brushed SS. The signed crown sits deep into the case, but is easily accessed and is of good size. The signed helium release valve is located @ 10 oíclock and here is what it's used for:

This OMEGA innovation is indispensable to divers who must spend several days in a diving-bell. A watch without a helium escape valve could explode from too much pressure inside the case when the diver returns to the surface. By unscrewing the crown positioned @ 10 o'clock, the pressure is released through the valve without water infiltrating the case.
The case back is beautiful, with the traditional sea-horse with the Seamaster wave pattern on the rest of the case, no useless writing like "sapphire crystal" or "Tested Water-Resistance to 300m" or anything that doesn't need to be said. It also seems that a special Omega tool might be needed to open this watch. The serial number is situated under the 7 oíclock lug and is intact. Because of it's relative thinness and even balance of weight this watch is incredibly comfortable.
The dial is fairly large, measures 31mm. The sweep second hand is extremely smooth, has a dot of tritium and the end is painted red, this makes it very eye catching, some may dislike it, but I find it very pleasing to the eye. The hour and minute hand are skeleton style with tritium coating on the actual skeleton part and a dot for the end of the hour and a triangle/arrow for the minute hand. The hour markers are a combination of circles and batons and are filled with tritium. The Dial reads Omega, Seamaster, Professional, Chronometer, 300m/1000ft. The date is @ 3 o'clock and is black on white, I would have preferred white on blue to match the dial, but I can live with it. The dark blue wave pattern on the dial is handsome and changes color at different angles, some do not like this but I do. The Bezel is uni-directional, as all dive bezelís are, and is a little difficult to grip, but I can also live with that. The sapphire crystal is slightly domed and has an anti-reflective coating only on the inside, this is a great idea! It eliminates 50% of the glare and the crystal is easy to clean and doesnít get scratched. The tritium coating is awesome, the best Iíve seen in a long time, glows all night and is bright enough to see at a glance.
The OMEGA cal.1120 movement, whose bridges and oscillating weight have been completely redesigned to resemble the traditional OMEGA movements in the shape of an OMEGA symbol, thus improving their quality and precision. The finishing work of circular-graining, snailing, the Geneva Wave motif or the polished bevelling on the bridges exemplify a know-how worthy of the best Swiss watch manufacturers.

Omega cal. 1120




Omega cal. 1120

The raw embauche is the ETA cal. 2892/A2 a tried and tested, very reliable C.O.S.C. certified movement.

Here are the details of the ETA cal. 2892/A2

Movement with automatic winding, with an autonomy of 42 hours, rotor mounted on ball bearings.

Functions: hours, minutes, central seconds [feature to stop the seconds]; date [with quick change capability].
Shape: round.
Diameter: 25.60mm [11'''1/2].
Thickness: 3.60mm.
Jewels: 21. (23 jewels Omega 1120)
Balance: three arms, diameter 9.00mm, in gilt nickle or Glucydur. (3 arm Glucydur Omega 1120)
Frequency: 28,800 pulsations/hour.
Balance-spring: flat, in Nivarox2 or Nivarox 1, with Etachron adjustment device.
Anti-shock system: incabloc

ETA 2892/A2

ETA 2892/A2
This movement can be found in many other high-end watches such as IWC and Ulysse-Nardin, it is very sturdy and has proven itself time and again. So far is has been off +/-10 sec/day, I am still waiting for it to settle in and then I will be able accurately judge it's performance.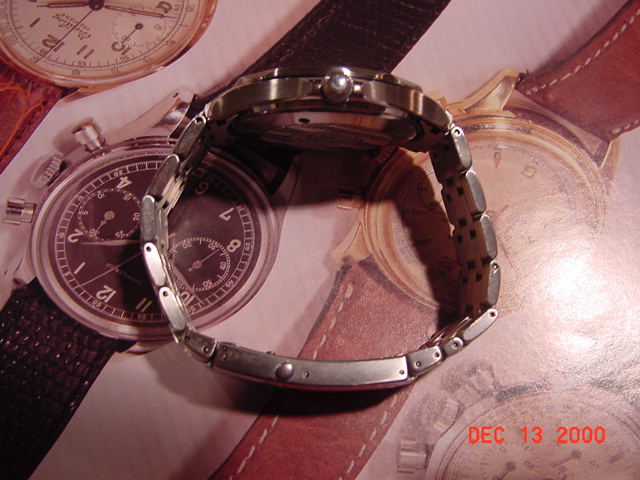 This is where this watch excels!!! The bracelet is consisted of links made of 9 pieces, with polished SS highlights, it is very solid and equally difficult to adjust! I had to go 3 times to the jeweler to get it right, but once it's done, you can be assured it will not come undone. The Bracelet comes with 2 half-links, that can be removed to make a perfect fit, since the clasp does not have micro-adjustment capabilities this is essential.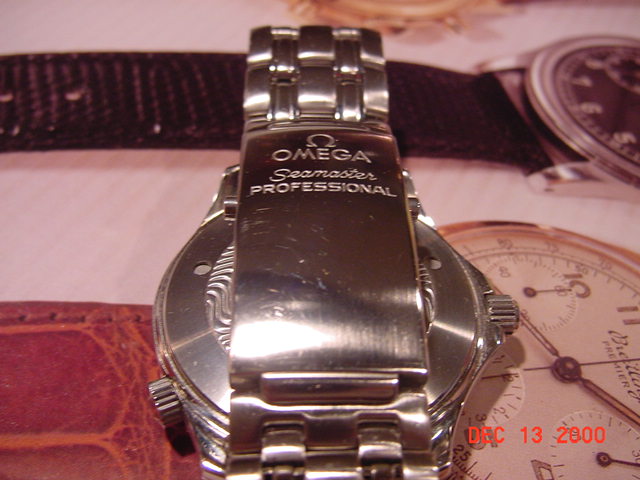 As for the signed clasp, it is by far the best out there, I have been using it as my standard to compare others with and it's with reason I do so. It is solid to say the least, closes very well, but you must make sure that the diverís extension is properly closed, which can be tricky. The push button mechanism works admirably, I have heard in the past that some Seamasters open if you only hit 1 of the 2 buttons, mine does not seem to have that flaw.
I rate this watch very highly as a great diver's watch, a helium release valve may be over the top for all of us desk-top divers but I think it's a great conversation piece. IMHO the look, feel and reliability are unequaled, I know there is a lot of competition out there in the divers watch market, but the Seamaster Pro sits very well with it's competitors costing much more. Many of us watch enthousiasts only like in-house movements, to me that isnít very much an issue, does it tell time? Is it accurate? Is it rugged enough to take a lickin'? These are my concerns and I think the Seamaster can fill these needs and more!

Please remember, this is just one man's opinion and yours may vary. I would like to thank all of you for reading, I would also like to thank Michael Sandler for many of these awesome scans and Chuck Maddox for his HTML work and for hosting this page via his website!